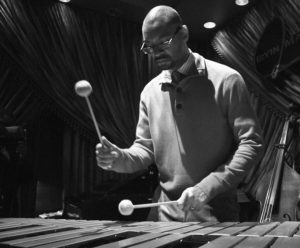 "From a tender young age it was clear that Jason Marsalis had what it took to be great. Jason is the son of pianist and music educator Ellis Marsalis and his wife Dolores, and the youngest sibling of Wynton, Branford and Delfeayo. Together, the four brothers and their patriarch Ellis, comprise New Orleans venerable first family of jazz.
Ellis and Delores began to cultivate Jason's interest in music at age three, with the purchase of a toy set of drums. Jason is fond of telling the story of a game he and his parents would play with the drums. "When I was three, my parents bought me a toy drum set and the used to introduce me to an imaginary audience. They would say, 'Ladies and gentleman introducing the fabulous Jason!' and I would come out and start banging away much to my parents delight. I too enjoyed it to the point that I started to go up to my parents unsolicited and say, 'Dad, introduce me again!'"
By age six, not only had Jason gotten his first real drum set, but he was also taking lessons from the legendary New Orleans drummer James Black. At age seven he was sitting in with his father's jazz group, as well as playing with his trombonist brother Delfeayo. Jason was progressing so rapidly as a drummer that in 1984 his father started using him consistently on engagements. Jason was starting to become a seasoned road veteran before the age of nine, even traveling to the prestigious Berklee School of Music in Boston for Delfeayo's senior recital.
Shortly after graduation from NOCCA high school in 1995, Marsalis ascended to the drum throne of a new group lead by virtuoso pianist and former sideman for Wynton Marsalis, Marcus Roberts. Despite a demanding touring schedule with Roberts, Marsalis furthered his educational goals by attending Loyola University in New Orleans, as well as studying composition with Roger Dickerson at Southern University.
The sense of style and tastefulness that Marsalis exhibits in his playing explains why is a highly sought after musician. This style has been well documented on recordings with artists such as the Lincoln Center Jazz Orchestra, Marcus Printup and Marcus Roberts to name but a few. He has also produced two albums under his own name, Year of the Drummer (1998) and Music in Motion (2000), as well as producing a reissue of his father's earlier recorded work, Syndrome (1996). In addition, Marsalis is a respected clinician and an endorser of Fibes drums and Zildjian cymbals.
With each passing year Jason Marsalis continues to grow and develop as both a composer and performer. With a fire in his heart and a passion for the music, his will to swing has never been more resolute. The maturity of this young lion and the command he possesses over his instrument is clearly evident to those who have heard or seen him.
Jason Marsalis Merch