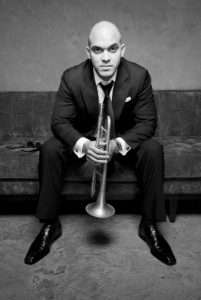 A Grammy and Billboard Award-winning producer, composer, trumpet player, and author.
Mayfield's credits include over 30 records, collaborations with Frank Ocean, Lenny Kravitz, George Clinton, Wyclef Jean, Bob Weir, Ani DiFranco, Dee Dee Bridgewater, Haley Reinhart, Wynton Marsalis, Dr. John, Ernest Gaines, and Gordon Parks.
His career started in Latin music as a cofounder of the celebrated group, Los Hombres Calientes with veteran percussionist Bill Summers in 1998. Since then, Mayfield has been named the Jazz Artist in Residence at the Apollo Theater in 2014, Artistic Director of Jazz from 2009 to 2014 at the Minnesota Orchestra, and Founder and Artistic Director of the New Orleans Jazz Orchestra from 2002 to 2016.
Mayfield's catalog includes live recordings at the prestigious Blue Note Jazz Club, the Village Vanguard, and most recently a live recording at the Newport Jazz Festival.
Domestically, Mayfield has headlined all major performing arts centers including Carnegie Hall and has twice performed at the White House for presidents George W. Bush and Barack Obama.
Internationally, Mayfield has headlined major Jazz festivals from North Sea in Europe to the Sydney Jazz Festival in Australia and has toured extensively throughout four continents.
Mayfield has authored two coffee table books, A Love Letter to New Orleans and New Orleans Jazz Playhouse, and has received an honorary doctorate from Dillard University.
Mayfield was nominated by President George W. Bush and appointed by President Barrack Obama to the National Council on the Arts. He was also nominated for an NAACP Image Award for his recording with Dee Dee Bridgewater.
Irvin Mayfield Merch