Basin Street Records is proud to announce we have signed Lena Prima and will be releasing her forthcoming album, Prima La Famiglia, on January 18, 2019. Pre-order the album, and receive two tracks instantly as a download. Welcome to the team, Lena!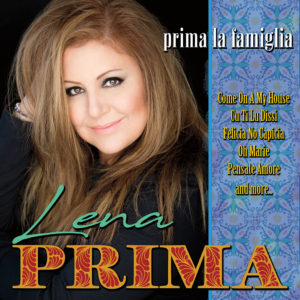 "A standing ovation . . . Lena has the panache of her father." – The Chicago Tribune
A seasoned veteran of the music industry, vocalist Prima has made over 3,000 musical appearances around the world throughout her career. Born in Las Vegas, but now residing and regularly performing in New Orleans, Prima is rooted in the music of the Crescent City, and in the words of Basin Street Records' founder and president, Mark Samuels, she's a perfect fit on the label.
The partnership commences with the release of Prima's new album, Prima La Famiglia. The heart of the album is in the title: Family. A proud Italian-American and longtime advocate of the Italian-American community, Prima set out to make an album of quintessential songs for the Italian-American family. In her own words, "It's the music that Italian-Americans grew up with back in the 40s that carried on throughout generations. They played this music in their family homes, at Sunday dinners, weddings, and they are just beloved songs." Lena Prima further solidifies the family theme with the fact that every track on the album (save the classic traditional Sicilian folk song "Cu Ti Lu Dissi") was at one time performed by her late father, Louis Prima. While Prima La Famiglia pays tribute to her father in this way, Lena offers fresh interpretations and a vocal style that are all her own bolstered by new, lush arrangements and orchestrations from Lawrence Sieberth that give the album an overall feel of class and polish. Fans of Tony Bennett, Liza Minnelli, and Frank Sinatra take note, there's a new name to list in the halls of great classic singers: Lena Prima!
Watch the Mini-Documentary on the making of the album!
Prima La Famiglia will be available on all major digital platforms and stores that sell fine music on January 18, 2019. Pre-order from select retailers or Basin Street Records to receive two tracks instantly.
Upcoming Performances:
Every Friday at The Carousel Bar at the Hotel Monteleone, New Orleans, LA – 10 PM
10/7/2018 – Club Bonafide, New York, NY – 3 PM & 6 PM
10/24/2018 – Royal Sonesta Hotel, New Orleans, LA – 8:30 PM
12/1/2018 – CIAO Women! Fundraiser – Deanie's Seafood Courtyard, New Orleans, LA – 3 PM
Related show