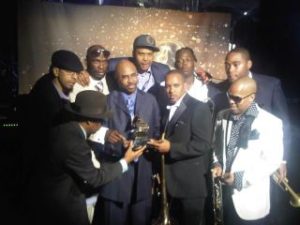 The Rebirth Brass Band! Celebrate with Rebirth at the Maple Leaf Bar on Tuesday, February 14th, 2012 beginning at 8p, and/or at one of 3 free shows February 16, 17, and 18 at the Howlin Wolf.  For more tour dates click HERE.
Rebirth of New Orleans CD was awarded the Grammy for Best Regional Roots Music Album at the 54th Annual Grammy Awards on February 12, 2012 at the Los Angeles Convention Center during the pre-telecast seen on Grammy.com. It is available for viewing for 30 days on the site. The Rebirth also performed their hit "Do It Again" during the pre-telecast starting out in the crowd and making their way to the stage.
This is the first Grammy win for Rebirth and for Basin Street Records. Los Hombres Calientes Vol.3: New Congo Square was BSR's first nominee 10 years ago.
Thank you to the Rebirth Brass Band, Howie, Stu and Andy at Howlin Wolf Management, producer Tracey Freeman, engineer Chris Finney, the Music Shed Recording Studio, mastering engineer Vlado Meller, graphic designer Cynthia Kinney, production manager Diana Thornton at Crescent Music Services, Nationwide Disc Manufacturing, Missi Collazo at MRI Associated Labels and RED Distribution, IODA Distribution, Challenge Music Distribution, Proper Music Distribution, Buffalo Records Distribution, Didgeridoo Distribution, Groov Radio Promotion, Girlie Action Publicity, Barron Ruth and Skyline Music, radio programmers and DJs, the press, our music retail partners, clubs (particularly the Maple Leaf Bar, Hank Staples and crew) and festivals, David Simon, HBO, Treme on Tour, Blake Leyh, Jerry Embry, Jon Hornyak, Reid Wick, Ken Erlich, Quint Davis, NARAS, Andrew and Serge at Basin Street Records, Rebirth co-founder Kermit Ruffins, all of the people who have supported Rebirth over the past 28 years, Rebirth's label mates and our families.  And thank you to all of you who voted for and/or bought or will buy Rebirth of New Orleans.
See REBIRTH BRASS BAND's performance during the Grammy pre-telecast (on demand) at 9:55 into the 3rd part (fast forward thru parts 1 & 2) is their performance. At 33:15 into the 3rd part is their Grammy acceptance. http://www.Grammy.com/live
Photos of Rebirth Return to New Orleans
Nola.com (Times-Picayune) story
WVUE Fox 8 story on Kermit Ruffins and Baby Boyz Brass Band welcoming Rebirth home at Louis Armstrong International Airport.