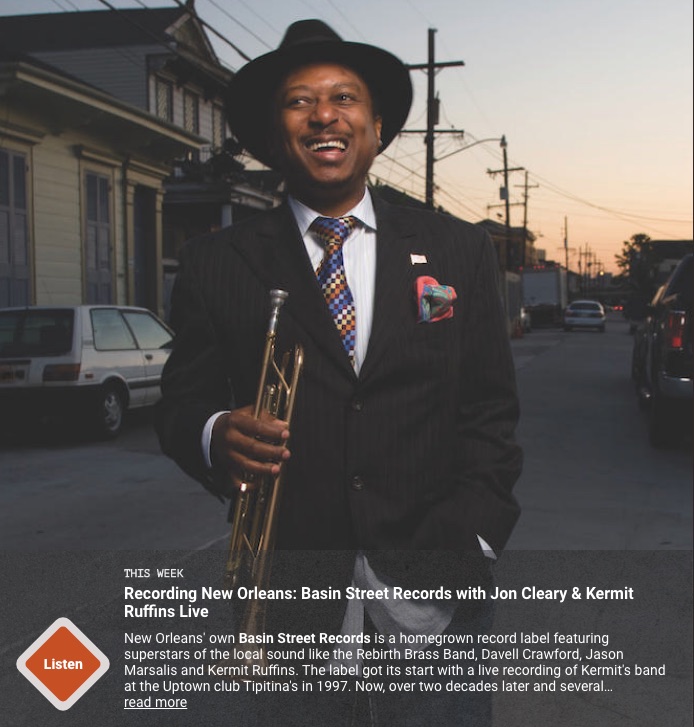 This week, Basin Street Records is the focus of the long-running weekly radio show American Routes produced by Nick Spitzer in New Orleans since 1998. American Routes, which is distributed by PRX, reaches nearly a million listeners each week on over 268 stations and via its website.
The two-hour program can be listened to on-demand on the American Routes website now.
Additionally, if you are in the New Orleans area, the show will broadcast in two parts on 89.9 WWNO at 5 PM on Saturday, July 25 and 6 PM on Sunday, July 26.
Not in New Orleans? Check your local listings for the airdate/time.
New Orleans' own Basin Street Records is a homegrown record label featuring superstars of the local sound like the Rebirth Brass Band, Davell Crawford, Jason Marsalis and Kermit Ruffins. The label got its start with a live recording of Kermit's band at the Uptown club Tipitina's in 1997. Now, over two decades later and several Grammy Awards under its belt, Basin Street Records still holds true to the sounds of New Orleans. We talk with Basin Street founder Mark Samuels about the label's history. We listen in on the artists that call it home, including Jon Cleary, whose "Quarantini Sessions" streaming live from his Funk Headquarters in the 9th Ward are helping us get through these challenging times. Then, a live concert and conversation with Kermit Ruffins & the Barbecue Swingers from Esplanade Studios in the Historic Treme neighborhood of New Orleans.

American Routes