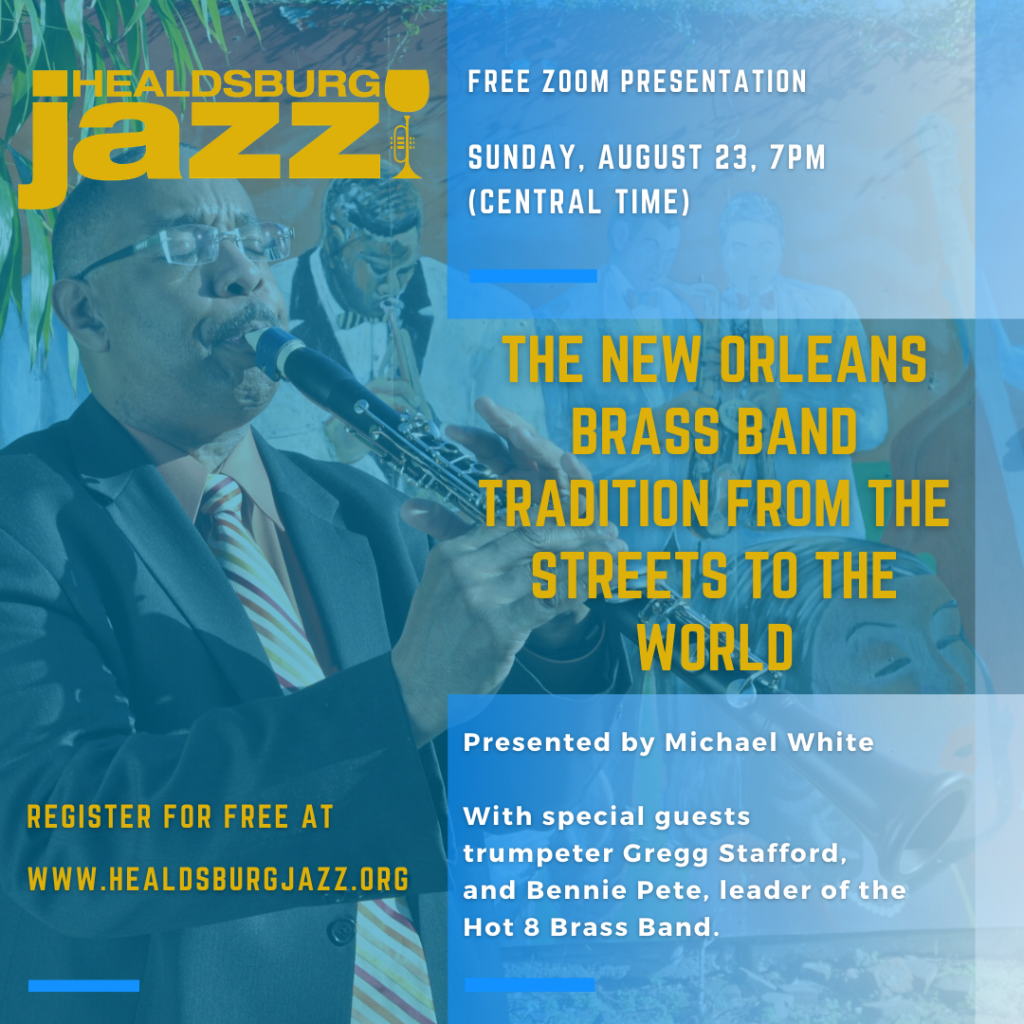 Free Zoom Presentation
Sunday, August 23,
5-7 PM (Pacific Time), 7-9 (Central Time)
Produced by Healdsburg Jazz
Presented by Dr. Michael White
Curated by Jessica Felix
Hosted by Marcus Shelby
Special guests trumpeter Gregg Stafford and
sousaphone player Bennie Pete, leader of the Hot 8 Brass Band
Free Registration is Required.
---
In the history of jazz, brass bands are remembered as a training ground for many early New Orleans musicians – like Louis Armstrong and Sidney Bechet – who would go on to change American music during the 1920s "Jazz Age." While typical six or seven piece dance ensembles recorded what became the main body of classic New Orleans Jazz in the north, the local brass bands remained behind only to be remembered as a footnote in the origins of jazz. These marching groups were known for playing in parades and the city's infamous "jazz funerals," but little is known about their origins, style, continuation, and evolution – especially since New Orleans brass bands were not recorded until the 1950s and their functions continued largely as a underground, unpublicized black community events into the 1980s.
To a core of African American New Orleanians, the brass band tradition has remained an important socially meaningful part of life that connects them to ancestral traditions and maintains the spirit and ceremonial practices that led to the development of jazz. While the original jazz style, repertoire, and format of brass bands in community parades and funerals continued into the early 1980s, a revolutionary new modern jazz and rhythm & blues influenced type of brass band started and gained momentum during the late 1970s – leading to massive outside interest and an explosion of new young brass bands that continues into today.
---
Participant Biographies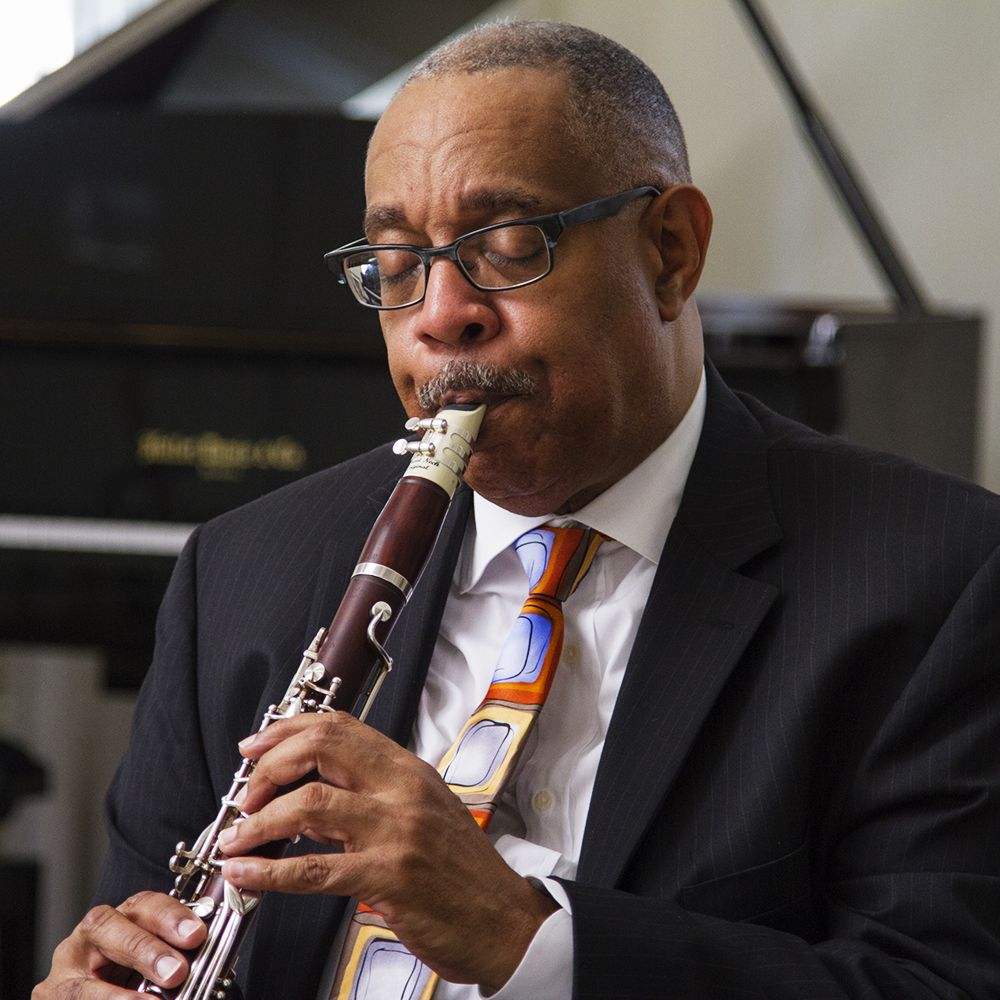 DR. MICHAEL WHITE is a leading figure in traditional New Orleans jazz. He is best known today for his classic clarinet tone and style with his Original Liberty Jazz Band and the Dr. Michael White Quartet. He is also distinguished for the unique series of jazz history programs that he has been doing for many years. A New Orleans native, White received a Ph.D. in Spanish from Tulane University and taught at Xavier University since 1980. For his many varied contributions to local music and culture he was awarded the Keller Endowed Chair in the Humanities. Since 2001 he has exclusively taught African American Music History and directs the Xavier Culture of New Orleans Series which he founded.
White is a from a New Orleans musical family that includes several early generation jazz musician relatives, such as Earl Fouche (saxophone soloist on the 1927 Sam Morgan Jazz Band recordings), Willie Joseph (clarinetist on the 1927 Louis Dumaine recordings), and bassist Papa John Joseph (associate of Buddy Bolden, who later recorded with George Lewis and Kid Thomas Valentine and was among the first black brass band saxophonists). He had a long association with over three dozen New Orleans jazz musicians born between the late 1890s and 1910. White has also become known as a jazz historian, composer, writer, producer – although he now reveals that being an actively performing musician has always been his main thing. In his forty-five year career he has performed in nearly three dozen foreign countries and most US states at festivals, major concert halls, and universities. White has been a longtime consultant for the New Orleans Jazz & Heritage Festival. He also produced Been in the Storm Too Long – a festival of New Orleans music within the 2006 Smithsonian Festival of American Folklife. He has also been the musical director for several Jazz at Lincoln Center concerts and frequently serves as a guest coach in the Juilliard Music School Jazz Program. Dr. White has recorded on over eighty albums, including fifteen under his own name and others with such diverse artists as Wynton Marsalis, Paul Simon, Taj Mahal, and Eric Clapton. He has also appeared in numerous documentaries, feature films and television shows. White has won numerous awards, including the French Chevalier of Arts and Letters, the NEA National Heritage Fellowships Award, The New Orleans Mayor's Arts Award, the Louisiana State Humanist Award, the Jazz Journalists of America's Jazz Hero Award, and the OFFBEAT Magazine's Best of the Beat Awards' Best Clarinetist twelve times.
Michael White's brass band roots have remained an important part of his life and career. His life as a jazz musician began 1975 with a four-year stint in Doc Paulin's Brass Band during which he played in dozens of community social club parades, church processions, and jazz funerals. Over the years he played with many brass bands, including the Young Tuxedo, Royal, Excelsior, Magnolia, Olympia, Treme, and Ellyna's Second Liners. In 1985 White formed the Liberty Brass Band, with which he has performed many jobs, including the opening of the National Museum of African American History and Culture in Washington DC and an appearance in the film Undercover Blues. White and other members performed as the Liberty Brass Band with Wynton Marsalis at the 1996 Olympics Closing Ceremony in Atlanta, GA. The Liberty Brass was one of three groups to record on the acclaimed 2014 Smithsonian Folkways recording, Through the Streets of the City: New Orleans Brass Bands, which White produced, contributed an original composition, and wrote the accompanying booklet (for which he won an ASACP Liner Notes award). Several of Dr. White's recordings include brass band style treatments of original compositions and transformations of popular songs into the traditional style. He appears with the Treme Brass Band in Spike Lee's Hurricane Katrina documentary, When the Levees Broke. White appears in the 2020 Lincoln Center produced Wynton Marsalis video #Memorial for Us All – a New Orleans brass band / jazz funeral ceremonial reflection on the current COVID pandemic devastation.
GREGORY STAFFORD is a New Orleans born trumpet player and singer who has been an active musician for nearly fifty years. He currently performs with several groups, including his own Jazz Hounds and the Young Tuxedo Brass Band, which he has led since 1984.He is often a musical collaborator in Dr. Michael White's bands and has been in frequent demand as a guest soloist in Scandinavian and Canadian traditional jazz bands for many years. Stafford is a relative of the great early jazz trumpet legend Henry "Red" Allen and Henry Allen, Sr., who led a popular brass band in early jazz. Stafford grew up in the heart of uptown New Orleans that was the center of black social club parade activities throughout the twentieth century. Today he lives around the corner from Buddy Bolden's house and close to the homes of several other uptown early jazz legends. He was exposed to street music and began to play with older groups like the E. Gibson Brass Band while still a teenager. Gregg was also an early member of the first generation of the Fairview Baptist Church Brass Band, the kids' group founded by legendary banjo and guitar player Danny Barker.
He went on to play the trumpet (and occasionally the bass drum) with several other brass bands and smaller jazz groups before becoming the leader of the Young Tuxedo Brass Band after the death of leader Herman Sherman. The Young Tuxedo Brass Band was first formed in the 1930s by clarinetist John Casimir and was among the most visible group in community parades and funerals for many years. In 1958 The young Tuxedo became the first New Orleans brass band to record on a major label, producing the Atlantic record's iconic 1958 Jazz Begins – a collection of classic parade and jazz funeral music. Gregg developed a close relationship with Danny Barker and became a long-time member of Barker's Jazz Hounds, which he took over after Barkers death in 1994. He is one of only a few current New Orleans musicians to develop his own unique authentic classic jazz sound and expression. Stafford has remained true to his community roots and has been a long-time member of two parading black social clubs: the Young Men Olympian Benevolent Association (the city's oldest such group, formed in 1884) and the Black Men of Labor, of which he became a founding member in 1993. Gregg Stafford has been an outspoken advocate of traditional band band music and decorum in jazz funerals and a critic of some of the later practices seen in many current funerals.
BENNIE PETE is a tuba (sousaphone) player who in 1993 formed and still leads one of the most popular modern style New Orleans brass bands, the Hot 8. The band began as a group of students from Fortier High School that came together from two other young groups and practiced regularly in the uptown A. L. Davis Park. The band began to attract crowds of neighborhood people and people returning home after work. Soon it became a New Orleans party, with throngs of people eating, dancing, drinking, and enjoying the music of the young band. Although they were first inspired by the modern brass band style of the Dirty Dozen and Rebirth groups, audience requests led them to expand and incorporate classic and current rhythm & blues songs – especially Motown hits. Bennie Pete describes the band's unique style as "funk" – a mixture of modern and traditional jazz, rhythm & blues, soul, funk, and rap. The Hot 8 has remained as one of the favorite bands in community "second line" parades and funerals, but has also expanded to perform in nightclubs and at festivals. The group was one of several brass bands to play at the popular Rampart Street bar Donna's during the 1990s. Today the Hot 8 holds down regular Sunday gigs at both the Howlin' Wolf Club and the Treme Art & Music Lounge.
Bennie Pete and the Hot 8 have overcome a number of tragic loses and devastating tragedies to also become a popular in touring band with a large international following. For the last several years they have toured throughout the United States, Europe, and Japan. The band returned from a successful six-week long 2020 "Mardi Gras Tour," throughout Europe just before the COVID pandemic. The Hot 8 performed in the final season of HBOs television series Treme. They also appeared in the Master P rap video Hootie Hoo and in Spike Lee's 2006 Hurricane Katrina documentary, When the Levees Broke. To date the Hot 8 has recorded nine albums, including the 2014 Smithsonian Folkways release Through the Streets of the City: New Orleans Brass Bands and their latest release Take Cover. As a tuba player, Bennie Pete has followed in the expanded and prominent tuba role established Anthony "Tuba Fats" Lacen, Kirk Joseph, and Phillip Frazier by developing his own version of rousing bass lines, riffs, and melodic parts. Bennie expresses a sincere understanding of today's modern brass band tradition of which he is a stellar representative.
---
About Healdsburg Jazz
Healdsburg Jazz is an organization that celebrates the indigenous American art form known as Jazz. Over the past two decades, the Healdsburg Jazz Festival has become a favorite local tradition with a growing national reputation. In addition to the annual festival, the non-profit 501(c)(3) organization sponsors numerous free music education programs in Healdsburg area schools for primary and secondary school students, as well as for adults, and presents a series of Jazz Master concerts throughout the year.