Theresa Andersson
Street Parade
(April 24, 2012; Basin Street Records)
"What Comes Next" MP3, featuring Peter Moren (Peter Bjorn and John),
Premiered on SPIN Today!
(Please post and share the song)
Don't Miss Theresa Andersson's Mardi Gras Debut,
Performing Live with Krewe of Muses on Feb. 16!
Theresa Also Performing in NYC @ Joe's Pub on March 8!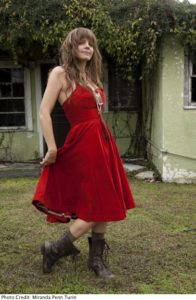 "… multifaceted songs that have one foot in retro soul and one in Scandinavian pop."
– Los Angeles Times
"charmingly infectious" – NPR
"… unconventional, focused and utterly charming…"  – Paste
"one-woman band Theresa Andersson pretty much floored all of us with her performance."
– KCRW, "Top 10 Live Performances of 2009"
Swedish born, New Orleans based soul singer Theresa Andersson is back with a new album, Street Parade, a lush, joyful and sometimes melancholy ode to the city she has called "home" for nearly 20 years.
A stunning vocalist and a talented multi-instrumentalist, Theresa is best known for her live shows, where she crafts complexly layered songs using bevy of drums, stringed instruments and looping pedals. She became an internet phenomenon in 2008, when Youtube featured a home-made video of her performing a song in her kitchen. The song, "Na Na Na," from her album Hummingbird, Go!, logged 750,000 views in three days, and has gone on to accumulate nearly 1.5 million views on YouTube.
Andersson's new album, Street Parade, reflects a dreamy Nordic pop sensibility firmly rooted and influenced by the warm gospel and soul sounds that drew the artist to New Orleans in the first place. The title track, "Street Parade," opens the record with resounding vocals rising over a regimental drum-line, testifying to the catharsis and impermanence of the carnival. The focus then draws back cinematically into the rush of the parade as the piano fades on "Injuns," and Theresa's voice bounds over a heart-quickening percussion of handclaps, drumsticks and thrumming base. Theresa's voice plays from a tongue-in-cheek 60s standard to a subtle snarl on the nocturnal brass breakdown of "Fiya's Gone."  "What Comes Next" opens with a bright horn melody and mighty drum cadence leading into a powerful chorus on which Theresa is joined by Peter Moren of Peter Bjorn and John. Check out the "What Comes Next" MP3 where it premieres on SPIN today or HERE.
Don't Miss Theresa's Mardi Gras Debut!
To celebrate the launch of Street Parade, Theresa is partnering with the all female KREWE OF MUSES, one of the most entertaining and unique Mardi Gras krewes, to debut music from her album. Working with renowned puppeteer Arthur Mintz, creator of the award-winning theater version of Fantastic Mr. Fox, the Mardi Gras performance will feature a puppet-driven float with Theresa, The Muses, and a 30 piece band of singers, drummers and horn players performing songs from the album.
Theresa Andersson Upcoming Performances:
Feb 16              New Orleans      MARDI GRAS!
March 8            NYC                 Joe's Pub, 7:30 pm
April 14             Mobile, AL        Callaghan's Irish Social Club
April 15             New Orleans      French Quarter Festival
April 18             New Orleans      Lafayette Square (Free Show), 5pm
May 4               New Orleans      JAZZFEST
For more info give us a shout!
Sarah Avrin – sarah@girlie.com – 212-989-2222 x118
Dana Cooper – dana@girlie.com – 212-989-2222 x125