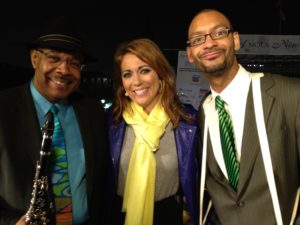 Basin Street Records' artists Dr.Michael White and Jason Marsalis will be interviewed by Brooke Baldwin on CNN on New Year's Eve in the half hour leading up to New Year central time. Dr.Michael White released Adventures in New Orleans Jazz, Part 2 in 2012, and Jason Marsalis will release In A World Of Mallets on February 19, 2013.
Dr.Michael White was named Humanist of the Year by the Louisiana Endowment for the Humanities, and received the National Endowment for the Arts' National Heritage Fellowship.
Jason Marsalis received the National Endowment for the Arts' Jazz Master award with his musical father Ellis, and brothers Branford, Wynton and Delfeayo.
Both Jason and Michael were named to Downbeat Magazine's recent Critics' and Readers' polls!
In New Orleans on New Year's Eve?  Check out Kermit Ruffins at Kermit's Treme Speakeasy early from 5p till 8p, Jon Cleary at Chickie Wah Wah 9p, Irvin Mayfield at Irvin Mayfield's Jazz Playhouse 9p, Jeremy Davenport in the Davenport Lounge at the Ritz-Carlton 9p and Rebirth Brass Band at the Howlin Wolf 10:30p.